MILITARY LAW TASK FORCE of the National Lawyers Guild
Providing independent legal information and services to lawyers and legal workers, active-duty servicemembers, reservists, veterans and their families since 1969.
A standing project of the National Lawyers Guild (NLG), we're attorneys, legal workers, law students and "barracks lawyers". We work on military law issues, assist counselors working directly with service members (GI's), and train and mentor counselors and beginning military law attorneys. The MLTF is concerned with all aspects of military law and policy. We produce training materials and publish our findings in our legal journal, On Watch.
The MLTF is not part of, or affiliated with, the US military, or any government entity.
On Watch: Military Law Journal
On Watch is our journal on military law. Articles range from military law practice, political analysis, GI Rights instruction for lay counselors, book reviews, and more. Join or subscribe to get each issue as soon as its published. 
IMPORTANT NOTICE: Content is subject to revision based on changes in military policy and federal law. We strive to provide up-to-date information, but please ensure you have the most recent memo or advisory before taking action. If you have questions, please contact us.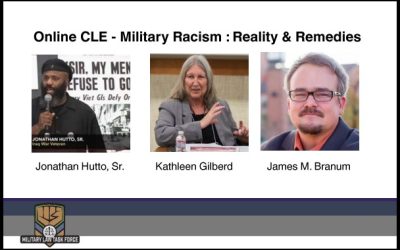 Live via zoom at Wednesday, September 27, 2023 at 10 am Pacific/1 pm Eastern. On-demand (recorded) format starting on October 1, 2023. To register. Please click here. Program Description: The Government Accounting Office report released in May 2019 found evidence that...
Join the Military Law Task Force today for only $25 annually.
Or, subscribe to On Watch, without joining the MLTF, for only $20 a year.