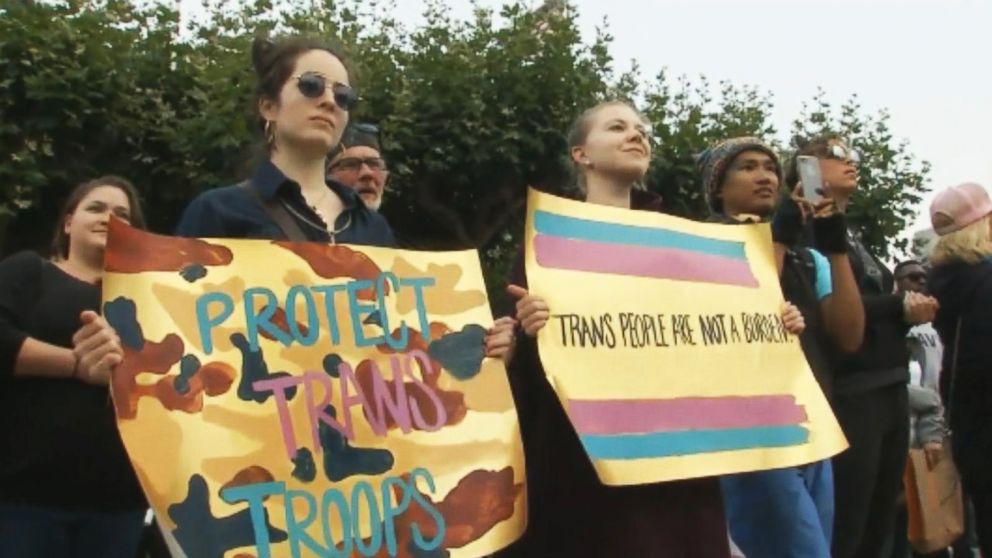 On July 26th, President Trump issued via Twitter his decision that transgender personnel would no longer be able to serve in the military.
After consultation with my Generals and military experts, please be advised that the United States Government will not accept or allow……

— Donald J. Trump (@realDonaldTrump) July 26, 2017
….Transgender individuals to serve in any capacity in the U.S. Military. Our military must be focused on decisive and overwhelming…..

— Donald J. Trump (@realDonaldTrump) July 26, 2017
….victory and cannot be burdened with the tremendous medical costs and disruption that transgender in the military would entail. Thank you

— Donald J. Trump (@realDonaldTrump) July 26, 2017
Policy by tweet left people, including Pentagon officials, confused about what would happen and when. The next day, the 27th, the Chairman of the Joint Chiefs of Staff informed the services that no policy change will go into effect until Trump has issued a new policy to DoD, and DoD in turn issues a policy change. Until then, the JCS Chairman says, current regs are in effect. He added that all servicemembers would be treated with respect.
Others point out that the ban is a "legal landmine."
The future of the ban remains unclear, but the MLTF will stay on top of the developments. Until then, our recently updated memo on Military Transgender Policy remains in effect.
Chelsea Manning, arguably the most well known trans service member, quickly responded with her own trio of Tweets, rightly calling the cost factor of health care for trans service members trivial to costs of other programs that wasted billions of taxpayer dollars. She later published a fuller response in The Guardian.
https://twitter.com/xychelsea/status/890215240461430785
https://twitter.com/xychelsea/status/890217910815346690
https://twitter.com/xychelsea/status/890227225815134209
Caitlyn Jenner, a conservative Trump supporter also responded:
There are 15,000 patriotic transgender Americans in the US military fighting for all of us. What happened to your promise to fight for them? https://t.co/WzjypVC8Sr

— Caitlyn Jenner (@Caitlyn_Jenner) July 26, 2017
The proposed ban has been widely criticized by members of Congress, and on August 1, The Palm Center issued a press release in which which 56 retired military officers refuted Trump's stated rationale for reversing the policy implemented just months earlier under President Obama.
SAN FRANCISCO, CA — Fifty-six retired General and Flag Officers provided the following statement to the Palm Center today: "The Commander in Chief has tweeted a total ban of honorably serving transgender troops. This proposed ban, if implemented, would cause significant disruptions, deprive the military of mission-critical talent, and compromise the integrity of transgender troops who would be forced to live a lie, as well as non-transgender peers who would be forced to choose between reporting their comrades or disobeying policy. As a result, the proposed ban would degrade readiness even more than the failed 'don't ask, don't tell' policy. Patriotic transgender Americans who are serving— and who want to serve—must not be dismissed, deprived of medically necessary health care, or forced to compromise their integrity or hide their identity.

"President Trump seeks to ban transgender service members because of the financial cost and disruption associated with transgender military service. We respectfully disagree, and consider these claims to be without merit. The RAND Corporation, as well as research in the New England Journal of Medicine, found that the financial cost of providing health care to transgender troops would be, at most, $8.4 million per year. This amounts to one one-hundredth of one percent of the military's annual health care budget. As for ostensible disruptions, transgender troops have been serving honorably and openly for the past year, and have been widely praised by commanders. Eighteen foreign nations, including the UK and Israel, allow transgender troops to serve, and none has reported any detriment to readiness.

"Recently, two former Chairmen of the Joint Chiefs of Staff have taken courageous stands in support of our transgender service members. General Martin Dempsey said of our transgender troops that, 'The service of men and women who volunteer and who meet our standards of service is a blessing, not a burden.'

"And Admiral Mike Mullen stated that, 'I led our armed forces under the flawed 'don't ask, don't tell' policy and saw firsthand the harm to readiness and morale when we fail to treat all service members according to the same standards. Thousands of transgender Americans are currently serving in uniform and there is no reason to single out these brave men and women and deny them the medical care that they require. The military conducted a thorough research process on this issue and concluded that inclusive policy for transgender troops promotes readiness.' Admiral Mullen urged civilian leaders 'to respect the military's judgment and not to breach the faith of service members who defend our freedoms.' We could not agree more."

General John R. Allen, USMC (Retired)
General Robert W. Sennewald, USA (Retired)
Vice Admiral Donald Arthur, USN (Retired)
Lieutenant General Robert Gard, USA (Retired)
Lieutenant General Walter Gaskin, USMC (Retired)
Vice Admiral Kevin P. Green, USN (Retired)
Lieutenant General Arlen D. Jameson, USAF (Retired)
Lieutenant General Claudia Kennedy, USA (Retired)
Lieutenant General Willie Williams, USMC (Retired)
Major General Juan G. Ayala, USMC (Retired)
Major General Donna Barbisch, USA (Retired)
Rear Admiral Chris Cole, USN (Retired)
Major General Vance Coleman, USA (Retired)
Major General J. Gary Cooper, USMC (Retired)
Major General Paul Eaton, USA (Retired)
Major General Mari K. Eder, USA (Retired)
Rear Admiral F. Stephen Glass, USN (Retired)
Major General Richard S. Haddad, USAF (Retired)
Major General Irv Halter, USAF (Retired)
Rear Admiral Jan Hamby, USN (Retired)
Major General Marcelite J. Harris, USAF (Retired)
Rear Admiral John Hutson, JAGC, USN (Retired)
Major General James R. Klugh, Sr., USA (Retired)
Major General Dennis Laich, USA (Retired)
Major General Randy Manner, USA (Retired)
Major General Dee Ann McWilliams, USA (Retired)
Major General John Phillips, USAF (Retired)
Major General Dana J.H. Pittard, USA (Retired)
Major General Gale Pollock, CRNA, FACHE, FAAN, USA (Retired)
Rear Admiral Harold Robinson, USN (Retired)
Major General Patricia Rose, USAF (Retired)
Rear Admiral Alan Steinman, USPHS/USCG (Retired)
Major General Antonio Taguba, USA (Retired)
Major General Peggy Wilmoth, PhD, MSS, RN, FAAN, USA (Retired)
Major General Maggie Woodward, USAF (Retired)
Rear Admiral Dick Young, USN (Retired)
Brigadier General Clara Adams-Ender, USA (Retired)
Brigadier General Ricardo Aponte, USAF (Retired)
Rear Admiral Jamie Barnett, USN (Retired)
Brigadier General David Brahms, USMC (Retired)
Brigadier General Stephen A. Cheney, USMC (Retired)
Brigadier General Julia Cleckley, USA (Retired)
Rear Admiral Jay DeLoach, USN (Retired)
Brigadier General John Douglass, USAF (Retired)
Brigadier General Evelyn "Pat" Foote, USA (Retired)
Brigadier General Judy M. Griego, NMANG (Retired)
Brigadier General David R. Irvine, USA (Retired)
Brigadier General John H. Johns, USA (Retired)
Rear Admiral Gene Kendall, USN (Retired)
Brigadier General Thomas Kolditz, PhD, USA (Retired)
Brigadier General Carlos E. Martinez, USAF (Retired)
Brigadier General Ronald Rokosz, USA (Retired)
Brigadier General John M. Schuster, USA (Retired)
Rear Admiral Michael E. Smith, USN (Retired)
Brigadier Paul Gregory Smith, USA (Retired)
Brigadier General Marianne Watson, USA (Retired)