For press inquiries contact: help@nlgmltf.org or 619-463-2369
The Military Law Task Force of the National Lawyers Guild is outraged at the recent attempt by the U.S. House of Representatives to restrict access to the
Military Religious Freedom Foundation. For almost 20 years the Foundation has been providing counsel to military servicemembers regarding their right to be free from religious coercion and from discrimination during their service. The Foundation has assisted over 80,000 active duty, veteran and civilian personnel in the U.S. military.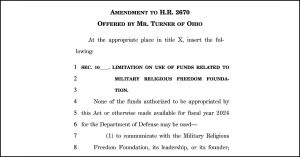 Recently, the U.S. House Armed Services Committee passed an amendment to the 2024 NDAA which bars the use of funds "to communicate with
the Military Religious Freedom Foundation", or to "take any action or make any decision" regarding a matter raised by the MRFF. This amendment is a substantial assault on the ability of servicemembers to obtain assistance and advocacy during their service. It is clearly an unconstitutional denial of the free speech rights of servicemembers. Finally, it is an attack on servicemembers who observe minority faiths or even no religious faith and are discriminated against during their service.
The MLTF joins with the MRFF and its allies in calling for this amendment to be defeated by Congress and for the rights of servicemembers in the area of religious faith to be fully protected.