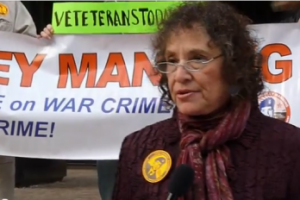 Op-Ed for MLTF by Marjorie Cohn
Nobel Peace Prize nominee Bradley Manning has been formally charged with 22 counts including "aiding the enemy" and violations of the Espionage Act for leaking thousands of pages of documents and cables to Wikileaks. If convicted, Manning could serve the rest of his life in prison.
Manning has been held in custody for 19 months. During the first eight months, he was kept in solitary confinement in the military brig at Quantico, Virginia. Juan Ernesto Mendez, United Nations special rapporteur on torture, said that "Manning was subjected to cruel, inhuman and degrading treatment in the excessive and prolonged isolation he was put in during the eight months he was in Quantico." It was only after public pressure on Obama, including a letter by 250 law professors, that Manning was transferred to Ft. Leavenworth, where he is no longer in solitary confinement.
One of the things Manning is alleged to have leaked is the "Collateral Murder" video which depicts U.S. forces in an Apache helicopter killing 12 unarmed civilians, including two Reuters journalists, and wounding two children. People trying to rescue the wounded were also fired upon and killed. A U.S. tank drove over one body, cutting the man in half.
The actions of American soldiers shown in that video amount to war crimes under the Geneva Conventions, which prohibit targeting civilians, preventing the rescue of the wounded, and defacing dead bodies.
President Barack Obama proudly took credit for ending U.S. military involvement in Iraq. But he had tried for months to extend it beyond the December 31, 2011 deadline his predecessor negotiated with the Iraqi government. Negotiations between Obama and the Iraqi government broke down when Iraq refused to grant criminal and civil immunity to U.S. troops.
It was after seeing evidence of war crimes such as those depicted in "Collateral Murder" and the "Iraq War Logs," also allegedly leaked by Manning, that the Iraqis refused to immunize U.S. forces from prosecution for their future crimes.
After a seven day hearing, during which the prosecution presented evidence that Manning leaked cables and documents, there was no evidence that leaked information imperiled national security or that Manning intended to aid the enemy with his actions.
On the contrary, in an online chat attributed to Manning, he wrote, "If you had free reign over classified networks… and you saw incredible things, awful things… things that belonged in the public domain, and not on some server stored in a dark room in Washington DC… what would you do?"
Manning went on to say, "God knows what happens now. Hopefully worldwide discussion, debates, and reforms… I want people to see the truth… because without information, you cannot make informed decisions as a public."
The U.S. government considers Manning one of America's most dangerous traitors. Months ago, Obama spoke of Manning as if he had been proved guilty, saying, "He broke the law." But Manning has not been tried, and is presumed innocent in the eyes of the law. If Manning had committed war crimes instead of exposing them, he would be a free man today.
Besides helping to end the Iraq war, the leaked cables helped spark the Arab Spring. When people in Tunisia read cables revealing corruption by the ruling family there, they took to the streets.
As the judge announced a recess at Manning's arraignment, someone shouted, "Your honor! Isn't it a soldier's responsibility to report war crimes?" If Manning did what he is accused of doing, he should not be tried as a criminal. He should be hailed as a national hero, much like Daniel Ellsberg, whose release of the Pentagon Papers helped to expose the government's lies and end the Vietnam War.
Marjorie Cohn is a professor at Thomas Jefferson School of Law and past president of the National Lawyers Guild. She is co-author, with Kathleen Gilberd, of Rules of Disengagement: The Politics and Honor of Military Dissent.