By Kathleen Gilberd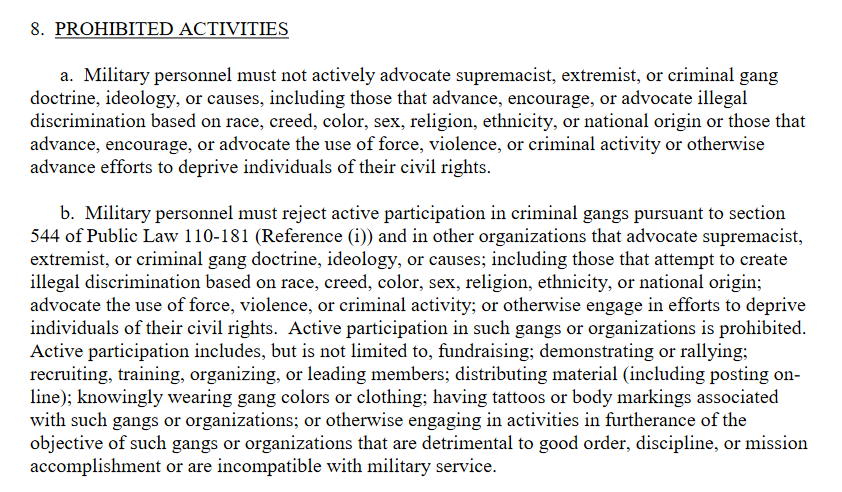 Image Source[1]
White supremacist and neo-fascist activity within the military are long-standing problems. They go back at least to the 1970's, when the Pendleton 14 case exposed an active Ku Klux Klan chapter at that Marine base, and further investigation revealed Klan and other right-wing organizing efforts at a number of other bases around the country. Groups like the Southern Poverty Law Center exposed organizing by a variety of racist organizations both in the military and among veterans
Ironically, the military acknowledged these problems primarily when civilian organizations and the media brought them to the public's attention. When enough outside pressure was brought to bear, the military responded with plans to deal with such extremism, occasionally creating new policies requiring disciplinary action or discharge of those engaged in supremacist activity. The most significant was a change to DoD Directive 1325.6 (later revised as DoD Instruction 1325.06), adding a prohibition on active participation in extremist groups and providing a loose definition of extremism. Unfortunately, these policy changes were largely ignored by commands, and little was done to address the problems. Despite changes in regulations and occasional DoD statements denouncing white supremacy and neo-fascism, little changed.
In the last several years, public attention has been drawn again to racist and neo-Nazi activity by military personnel and veterans, particularly on social media, and the military has once again made a show of addressing the issues. In October, 2020, DoD submitted a report to Congress on the presence of white supremacists in the military, describing steps being considered to deal with the problem, such as improving questions on security clearance applications, accessing and learning from FBI databases of extremist tattoos and symbols, and surveilling social media for indications of extremism. The report claimed "a low number of cases in absolute terms," though DoD admits it does not have figures on the number of extremist incidents or of individuals disciplined or discharged for extremist activity. That same month, a Military Times survey found that more than 1/3 of active-duty troops and more than half of minority service members reported experiencing or seeing examples of white supremacist activity.
In December, 2020, Acting Secretary of Defense Christopher Miller ordered a review of "current policy, laws, and regulations concerning active participation by service members in extremist or hate group activity." He asked for recommendations on "initiatives to more effectively prohibit extremist or hate group activity" by the end of June and recommendations from DoD's general counsel on possible changes to the UCMJ to address extremist activity in July.
Most recently military and veteran participation in the January 6, 2021, attack on the Capital brought the problem to the forefront and forced DoD to take a new round of "action."
On February 5, Secretary of Defense Lloyd J. Austin III ordered all military commands to hold one-day stand-downs during a 60-day period to educate servicemembers about extremism and gather feedback about their experiences and concerns. His memorandum, Stand-Down to Address Extremism in the Ranks (defense.gov)[2], stated that:
Department of Defense Instruction 1325.06, 'Handling Dissident and Protest Activities Among Members of the Armed Forces,' provides the core tenets to support such discussions. Leaders have the discretion to tailor discussions with their personnel as appropriate, but such discussions should include the importance of our oath of office; a description of impermissible behavior; and procedures for reporting suspected, or actual, extremist behaviors in accordance with the DoDI. You should use this opportunity to listen as well to the concerns, experiences, and possible solutions that the men and women of the workforce may proffer in these stand-down sessions.
DoD issued a set of training and talking points for the stand-downs, Leadership Stand-Down Framework (defense.gov)[3]. While not a policy or regulation, the material included more detail than can be found elsewhere on reporting extremist activity and command actions against those engaging in such activity. The guidelines stated that servicemembers should report extremist activity to their commands and/or to the military's Insider Threat program; if the member reporting the activity believes it is "in a manner you suspect violates the UCMJ" or DoD or service policies on extremism, reports may also be made to military criminal investigators. The guidelines also identified a number of actions commands could take against those participating in extremist activity:
Counseling and corrective training
Removal from certain duties, such as restricted area badge access, flying status, or duties involving firearms
Reclassification
Suspension of eligibility to occupy a sensitive position
Denial of reenlistment or involuntary separation
Adverse evaluations and position reassignments
Designating off-limits areas
Ordering non-participation in specific activities, or removal of inappropriate materials
UCMJ Article 15 and Courts-Martial

Article 92: Violation or Failure to Obey a Lawful Order or Regulation
Article 116: Riot or Breach of Peace
Article 117: Provoking Speeches or Gestures
Article 133: Conduct Unbecoming
Article 134: General Article (Good Order and Discipline)
Although commands were required to report back on the stand-downs, DoD has not made any summary of them public. The military press, however, has interviewed some participants, with mixed responses. Some servicemembers found the stand-downs useful, but others told Military Times and other media that the sessions were sometimes presented cynically or haphazardly. Many felt that the definition of extremism was unclear, and that they did not receive sufficient guidance on the issue.
Following the stand-downs, on April 9, Secretary of Defense Austin issued a memorandum on "Immediate Actions to Counter Extremism in the Department and the Establishment of the Countering Extremism Working Group[4]" The memo includes four immediate actions: reviewing and updating the definition of extremism in DoD 1325.06; updating the "transition checklist" for servicemembers leaving the military to include training on extremist groups' targeting of veterans; reviewing and standardizing screening questionnaires for potential military recruits to obtain information about current or previous extremist activity; and commissioning a study of extremism within the military, "to include gaining greater fidelity on the scope of the problem."
The memo also established a Countering Extremism Working Group, tasked with examining how military justice and administrative policy should be used to address extremism and whether existing regulations should be revised; strengthening and supporting the Insider Threat Program; examining DoD's "pursuit of scalable and cost-effective capabilities to screen politically available information in accessions…."; and examining means to improve training of personnel on the problem of extremism using, among other things, lessons learned from the stand-downs. On this last point, the memo specifically suggested that training cover "gray areas" of extremist activity, such as reading, following or liking extremist content in social media. The Working Group was ordered to conduct its first meeting on April 14 and, within 90 days of that meeting, to report on the status of implementation of these tasks and any additional recommendations.
While some of this sounds relatively good on paper, it remains mostly paper at this point—it is unclear whether DoD will actually take firm action against white supremacy and extremism, rather than simply promoting studies, surveys and further trainings. Currently, DoD faces some backlash from right-wing elements in Congress, who claim that the military is attempting to suppress all conservative thinking and failing to address leftist dissent in the ranks. It remains to be seen how DoD will respond to this, and whether real action will be taken against servicemembers engaging in white-supremacist and neo-fascist activity. The MLTF is following this issue closely and will report on further developments in future issues of On Watch.
MLTF anti-racism committee
[1] DoD 1325.06, "Handling Dissident and Protest Activities Among Members of the Armed Forces," Enclosure 3, section 8, DoDI 1325.06, November 27, 2009, Incorporating Change 1 on February 22, 2012 (whs.mil):
https://www.esd.whs.mil/Portals/54/Documents/DD/issuances/dodi/132506p.pdf?ver=2019-07-01-101152-143
https://www.defense.gov/Newsroom/Releases/Release/Article/2495924/dod-stand-down-to-address-extremism-in-the-ranks/
[2] https://media.defense.gov/2021/Feb/05/2002577485/-1/-1/0/STAND-DOWN-TO-ADDRESS-EXTREMISM-IN-THE-RANKS.PDF
[3] https://media.defense.gov/2021/Feb/26/2002589872/-1/-1/1/LEADERSHIP-STAND-DOWN-FRAMEWORK.PDF
[4] https://media.defense.gov/2021/Apr/09/2002617921/-1/-1/1/MEMORANDUM-IMMEDIATE-ACTIONS-TO-COUNTER-EXTREMISM-IN-THE-DEPARTMENT-AND-THE-ESTABLISHMENT-OF-THE-COUNTERING-EXTREMISM-WORKING-GROUP.PDF
Kathleen Gilberd is a legal worker in San Diego, handling discharge review and military administrative law cases. She is the executive director of the Military Law Task Force and a member of the board of directors of the GI Rights Network.